News:
An update regarding disconnections: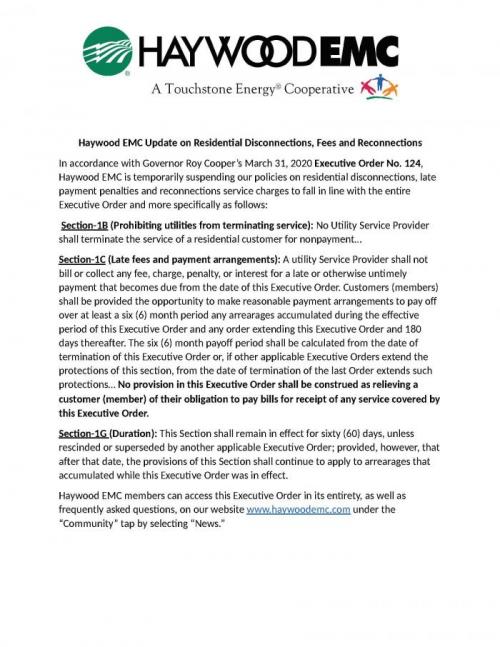 To find the full Executive Order click here: EO124-Utilities-Evictions-Financial-Services.pdf
For FAQs on the Executive Order: FAQs-Financial-Leniency-Evictions-Utilities.pdf
An update regarding COVID-19: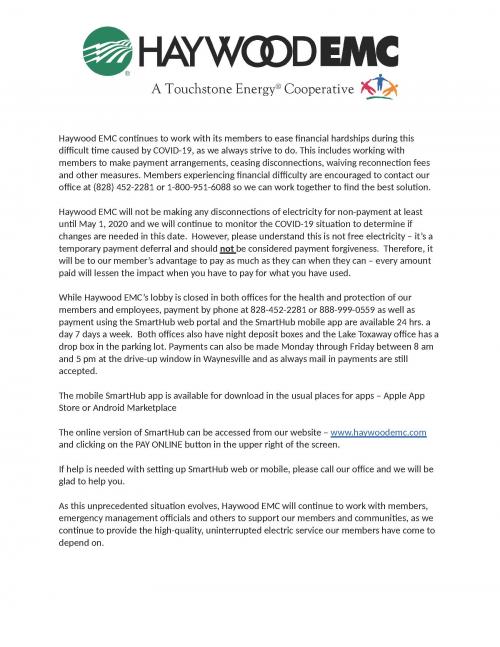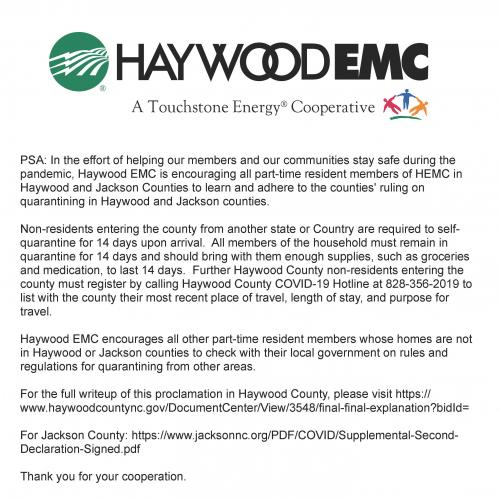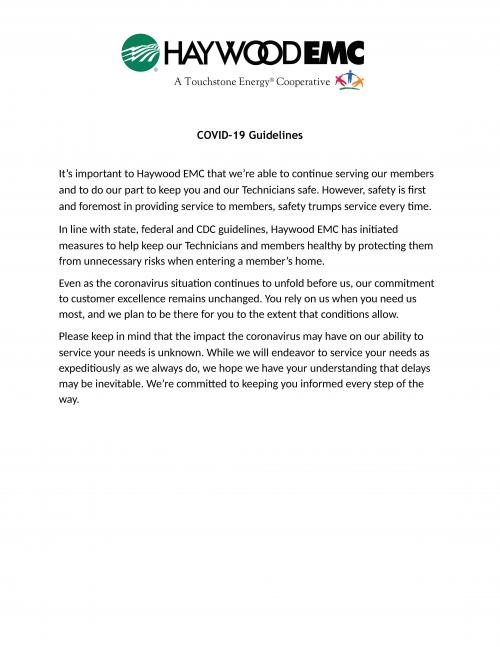 Volunteer Fire Department Contributions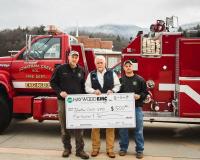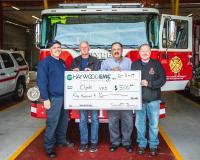 Jonathan Creek Fire and Rescue and Clyde Fire Department each requested help from Haywood EMC to purchase new equipment. Jonathan Creek Fire and Rescue Board Chairman Tim Sisk said, "These funds will be used to upgrade our exterior lights to LED fixtures." The money requested from Clyde Fire Department "will be used for the purchase of a new AED unit," said Chief Mitch Sellars. In appreciation for the fire departments' assistance during outages and emergency work for our members, Haywood EMC was glad to return the favor with a small grant towards the purchase of this equipment at each Fire Department.
Haywood EMC's 2020 Member Appreciation Days:
Due to the COVID-19 Pandemic, This year's Member Appreciation Days are being moved to October 13th and 15th. Just like in previous years, we'll have a cookout with hotdogs, burgers, and more. We'll also have several vendors with demonstrations. Stay tuned for more information on this year's events!
Waynesville Member Appreciation Day: October 13th, 2020
Lake Toxaway Member Appreciation Day: October 15th, 2020
Haywood EMC's 2020 Annual Business Meeting:
Haywood EMC will hold the annual business meeting with the event itself being strictly a business meeting on Thursday, August 6th, 2020, starting at 7:00 PM
Past Events:
HEMC's 7th Annual Member Appreciation Day:
Haywood EMC would like to thank all of our members who came out to see us during our 7th annual member appreciation days!
This year's event in Lake Toxaway was our largest ever. We cannot wait to see everyone at next year's event!